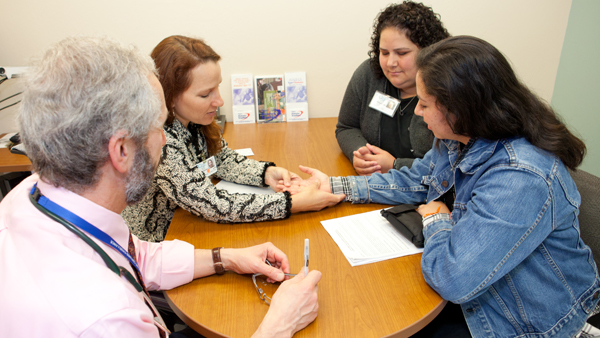 Photo: Members of the UCSF Madison Clinic for Pediatric Diabetes Saleh Adi and Colette O'Brien work with nursing student Dara Nunn to check on a patient with diabetes
Program Named After Legendary UCSF Nurse Peggy Huang
By Kate Volkman
An epidemic is sweeping the nation and world: diabetes. Almost 26 million children and adults in the United States — and 346 million worldwide — have the disease. Another 79 million Americans are considered to have pre-diabetes.
Now, thanks to a generous $1.5 million gift from a member of the Diabetes Center Leadership Council who has a child with diabetes, UCSF will be among the first in the country to educate and train nurses specifically to care for diabetes patients across their lifespan by establishing a new academic minor in diabetes at the UCSF School of Nursing.
"With increasing rates of obesity and an aging population, we need to train more nurses who can help patients manage the disease in a very knowledgeable way," says UCSF's Kit Chesla, RN, PhD, FAAN, a professor, diabetes researcher, and Shobe Endowed Chair in Ethics and Spirituality.
Peggy Huang, longtime UCSF nurse and certified diabetes educator, for whom the new diabetes minor was named.
The Madison Clinic Peggy Huang Diabetes Nurse Fellows Program will prepare advanced practice nursing students to sit for qualification exams to become nationally board certified in advanced diabetes management (BC-ADM). As such, they will help patients manage their diabetes from both medical and behavioral perspectives. For example, the nurses might adjust patients' medication regimens, and help those who are struggling with their diets to set realistic goals and develop concrete plans for adopting healthier lifestyles.
The minor's inaugural class of three to six students will enroll in the spring of 2013. The classes are also open to any other UCSF nursing student with an interest in the field. These pioneering students will begin by taking three courses: one each on advanced clinical management of type 1 and type 2 diabetes in children and adults, and one on the behavioral aspects of diabetes management. They will then complete clinical rotations in the UCSF Madison Clinic for Pediatric Diabetes, the UCSF Justine K. Schreyer Adult Diabetes Care Center, or other family practice and community clinics that treat a significant number of patients with diabetes.
Both the curriculum and clinical training are interprofessional ventures between the schools of medicine and nursing. While the program is directed by the School of Nursing, pediatric diabetes physicians Saleh Adi, MD, and Steve Gitelman, MD — both of whom are leaders in the Madison Clinic for Pediatric Diabetes — will teach some elements of the curriculum and help train nurses in the clinic.
"This is just the latest example of the collaborative spirit among the basic research, clinical research, and patient care programs that make up diabetes at UCSF," says Matthias Hebrok, director of the UCSF Diabetes Center.
Longtime UCSF nurse and certified diabetes educator Peggy Huang chats with UCSF School of Nursing Dean David Vlahov, diabetes researcher Kit Chesla and Chair of the Department of Family Health Care Nursing Linda Franck about the new diabetes minor.
The donor's gift also provides scholarships for three students — the Peggy Huang Fellows — pursuing the minor per year. Both the scholars and the program are named for longtime UCSF nurse, certified diabetes educator, and co-founder of the UCSF Diabetes Teaching Center, Peggy Huang, RN, CDE.
"We thank our very generous donor for stimulating and supporting this program," says UCSF School of Nursing Dean David Vlahov, PhD, RN. "It really represents a launch pad for advancing nursing and interprofessional education and practice. It will be a model for the nation."
UCSF has a long history of innovation and a vision of a cure, which drives its leadership in diabetes. For nearly 80 years, many of the breakthrough discoveries in diabetes have occurred through UCSF basic science and clinical research, including the cloning of the human insulin gene, which made possible the unlimited supply of synthetic insulin that now is used to manage the disease in many patients.