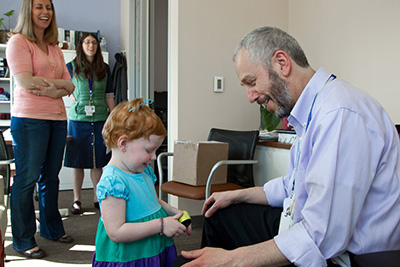 Kendall Layous meets with her doctor, Saleh Adi, MD, a pediatric endocrinologist, at the Madison Clinic while Kendall's mother, Shonda, far left, and nurse practitioner Nicole Rotter, PNP, CDE, look on in the background.
By Kate Vindisky 
In the two years since the Madison Clinic for Pediatric Diabetes was established through an anonymous, $10 million gift, it has evolved into a state-of-the-art facility with innovative programs and a new home on the Mission Bay campus.
The Madison Clinic at Mission Bay, now located steps away from the future UCSF Benioff Children's Hospital, offers comprehensive care for children and young adults with diabetes, with an emphasis on patient education, empowerment and the use of advanced technologies. It also has a commitment to advancing research in the management of diabetes in children.
A multidisciplinary team - including endocrinologists, clinical psychologists, nurses, diabetes educators, social workers, dietitians, and administrative staff - ensures patients' varying needs are met.
Two-and-a-half-year-old Kendall Layous, diagnosed with Type 1 diabetes, gets her blood pressure checked during a visit at the Madison Clinic for Pediatric Diabetes.
"I don't really manage diabetes. The parents do it all day, every day," said Saleh Adi, MD, medical director of the Madison Clinic and a pediatric endocrinologist. "Our job is to teach them how and provide them with the tools they need, and to be there for support and feedback whenever they need it."
Shonda and Brad Layous know firsthand how much is required of parents with diabetic children. Their daughter Kendall was diagnosed with type 1 diabetes in April 2012, two days after her second birthday.
"Having a child with a serious health condition takes its toll on the entire family, so a bright spot in this emotional year for us was finding the Madison Clinic," said Shonda Layous. "Our family knows that we are in the best care possible at the UCSF Madison Clinic, and its amazing staff and wonderful space give us comfort and confidence that we will partner with them for life to best manage her disease."
There currently are 25.8 million children and adults in the United States, or 8.3 percent of the population, living with diabetes, according to the American Diabetes Association. One in every 400 children and adolescents younger than age 20 has the chronic disease, which is characterized by the body's inability to regulate blood glucose, or blood sugar, levels.
With the incidence of both type 1 and type 2 diabetes in children on the rise, it is increasingly important to have skilled teams of diabetes health care providers who specialize in treating young people.
A 'Living Room' For Patients
The new Madison Clinic at Mission Bay was designed with the patient experience and clinician workflow in mind, according to Theresa Garnero, a nurse as well as the clinic's practice manager. Upon entering, visitors are greeted with warm colors and an open, friendly environment. A Wii Fit video game station and therapeutic art room add to the relaxed ambience.
"We call it the 'living room' instead of the waiting room," Adi said. "I wanted a place that feels nothing like a clinic or a doctor's office, a place that kids remember fondly and look forward to coming to. This is exactly what's happening."
"The space at Mission Bay is wonderful. There is plenty of space for doctor and specialist consultation, and the warm and kid-friendly environment provides for a peaceful experience during appointments that could otherwise be quite challenging," Layous added.

Kendall Layous, and her mother Shonda, make drawings that are used as table-top covers, part of an art therapy program at the Madison Clinic for Pediatric Diabetes.
Staff benefit from a communal office space in the back of the clinic that promotes collaboration and a greater number of dedicated consultation rooms for patient meetings. The clinic also offers a classroom for patient-related educational activities, such as insulin pump classes.
"I think the new Madison Clinic at Mission Bay really succeeds at evoking feelings of peace and playfulness, which is a great combination when you are dealing with this challenging disease," Garnero said. "As a nurse, I always believe that outcomes are the result of having a solid structure in place. We have this amazing physical structure now that sets the overall tone and will encourage positive outcomes."
New Programs to Enhance Care
The Madison Clinic also offers several innovative new clinical programs, designed to improve the patient experience and outcomes.
One such program is a revised model of case management, in which each child and his or her family is paired with a specific nurse and physician team for the duration of their care in order to optimize a patient's health.
The UCSF team also plans to set up satellite clinics in different parts of California to bring services closer to patient populations in the Monterey peninsula, Central Valley and elsewhere.
Most recently, the Madison Clinic established a groundbreaking transition program designed to help teens and young adults manage their own diabetes care as they become adults. According to Diana Naranjo, PhD, one of the clinic's two staff clinical psychologists, countless patients around the country are lost during the shift from pediatric to adult models of care, and this can have devastating consequences on their long-term health.
"Historically, this transition period has been looked at with a 'tag, you're it' kind of approach," Naranjo said. "Under this new program, we will work closely with patients years before they actually make the transition so that when the time comes, they feel empowered and fully capable to be autonomous with their disease management."
To provide greater continuity of care, the clinic also recruited two endocrinologists who are dually trained in pediatric and adult medicine. They can care for patients from childhood through young adulthood with a seamless transition.
Diabetes nurse practitioner Nicole Rotter, CPNP, CDE, examines Kendall Layous during a visit at the Madison Clinic for Pediatric Diabetes.
"Even for children who are cared for by pediatric endocrinologists such as myself, all I have to do when they turn 18 to 21 is simply introduce them to their new doctor, but still within the Madison Clinic," Adi said. "They remain in the same place they're so familiar and comfortable with, with the same staff, nurses and educators. Parents love it; it's one less thing to worry about."
A key component of the transition program is Marcela Arregui Reyes, who came on board at the beginning of the year as the clinic's first full-time transition coordinator. The position – guaranteed for two years through a grant from the UCSF Diabetes Family Fund – involves advocating for patients and acting as a liaison between patients and providers throughout the transition process.
Arregui Reyes will meet with patients and their families starting at the age of 14, and conduct annual assessments to better understand each individual's needs.
"I believe someone with diabetes can do anything they set their mind to as long as they have proper disease management," she said. "We are all working together to give our patients the tools they need and to make sure they know we are here to help. Our new clinic provides all the resources and technology needed to make this program succeed."
The transition program also will incorporate regular group meetings with staff psychologists, as well as evening seminars for patients and their families that address topics, such as how to manage diabetes after leaving for college. A newly created Youth Advisory Board will provide a unique outlet for patients to gather informally and share experiences and knowledge.
Photos by Susan Merrell