The Madison Clinic is on the third floor at 1500 Owens Street, on the Mission Bay Campus. Our building is not part of the Mission Bay Hospitals; it is a separate building about 2 blocks away.  If you use a GPS, be sure to include the "s" at the end of "Owens", because there is an "Owen" Street in San Francisco (but do not go there as it is very far away from Mission Bay!).
Once you arrive, turn behind the building and park your car in the parking lot. It usually has ample space.  Find the parking ticket kiosk to get a parking permit for a reasonable fee. There is an attendant to help you if needed.
We are doing our best to be on time for your appointment.  To help us, please arrive at least 15 minutes before your appointment time as it takes at least that much time to register and check you in. Please upload your pump and continuous glucose monitoring (CGM) data at home the day before your appointment. It will speed up the check-in process and would be much appreciated. 
If you were asked to keep a 3-day Insulin Pump Log (English)/Insulin Pump Log (Spanish) or Injection Log (English)/Injection Log (Spanish), you can bring it with you to your visit, or if in between visits, you fax to us at 415-353-2811 (and give us a call to let us know you sent it). Once you arrive, let the front desk team (Leila or Laloni) know if you have or have not uploaded your diabetes devices, and ask whether your appointment is for 30 or 45 minutes, or longer.

After checking in, one of our medical assistants (Nancy or Bessy) will take you into the vitals room to get your the height and weight, blood pressure, blood glucose reading, and A1C.When you need prescriptions refilled, or have school or other forms that need completing,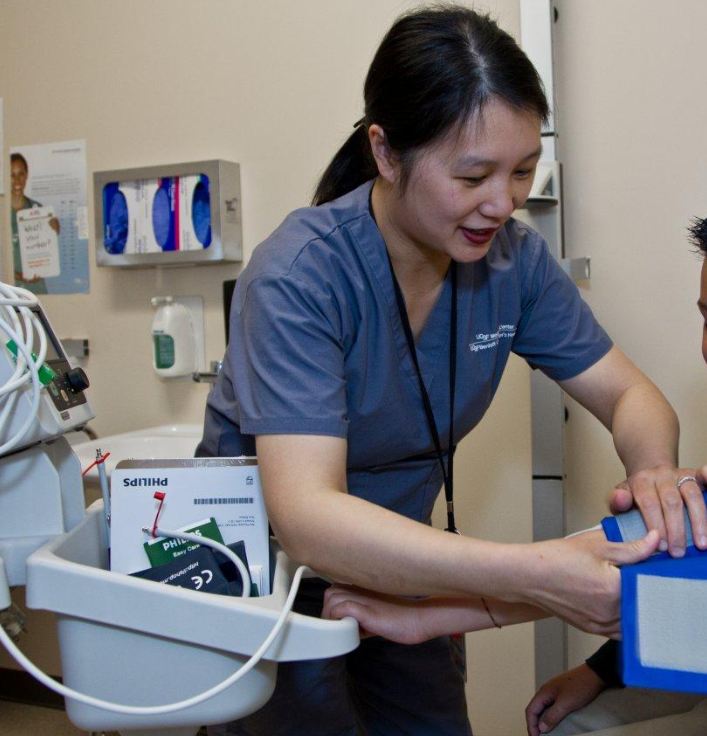 let Nancy or Bessy know. That way we can take care of it while you are with your provider. Then you can wait in the "Living Room" to play Wii or create art on one of the art tables (yes, you can take this home), or you will be guided directly to one of the consult rooms to meet your diabetes provider. Part of being a center for excellence is having a team to help with most areas of your care. If you wish to meet any other member of our team, including the registered dietitian (RD), certified diabetes educator (CDE), social worker, psychologist, Transition Coordinator, or one of our research coordinators, let your provider know so we can coordinate.